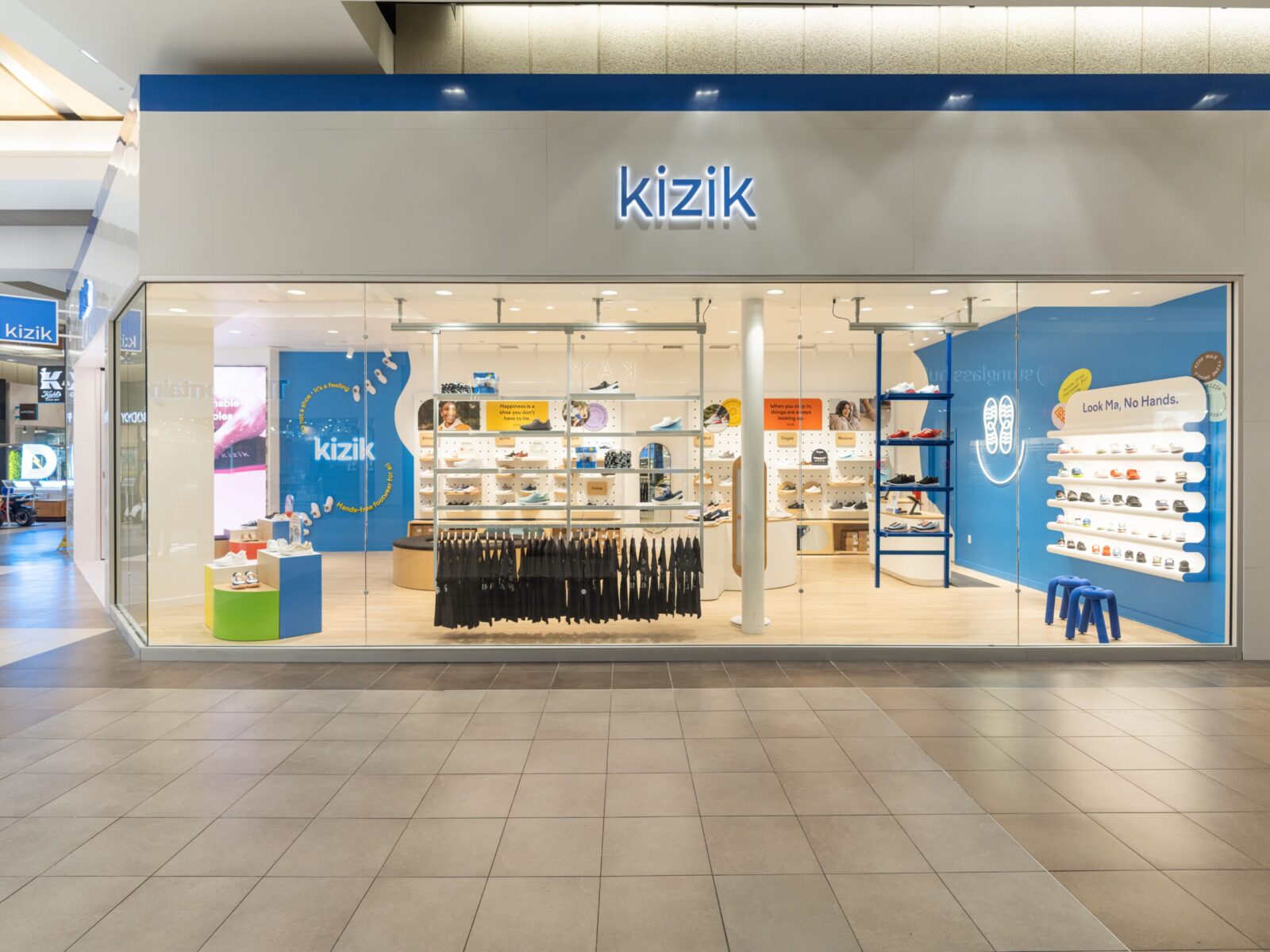 A brand-forward experience, for a brand that reimagines the try-on experience
Goal
Kizik – pioneers in hands-free footwear technology, and makers of the original hands-free shoe – sought to bring their success as a digital, direct-to-consumer brand to the brick & mortar retail space. Looking to open a first store in their own backyard – Salt Lake City – they partnered with MG2/The Lionesque Group to develop and build a modular space that could flex with the brand's growth and provide testing opportunities to inform future retail plans. With a holistic and collaborative approach, together they created an immersive, true-to-brand space that brings Kizik's vibrant, playful nature to the forefront of the shopping experience.
MG2/Lionesque
As full-service turnkey partners, our design, architecture and construction management teams worked collaboratively across all aspects of the project to deliver this major milestone for Kizik. Challenged with combining two former retail suites and a portion of the Landlord's common area, the team embarked on a gut renovation and complete rebuild. From a translation of the brand into a physical design concept, ensuring the immersive, playful qualities of the brand were represented throughout, to coordinating with consultants and producing a construction drawing set, ensuring the accuracy and quality of the store's detailing took center focus. Throughout the build, the construction project management team worked with Kizik as well as our design and architecture teams to navigate schedule hurdles, bringing all parties together to provide transparency, value engineer and find resolutions to mitigate impacts, ensuring Kizik opened doors on time and on budget.
Outcome
The Fashion Place outpost serves as a new base for Kizik to share their unique value proposition, reach a larger audience and allow new adopters to experience the comfort and convenience of hands-free shoes. The MG2/The Lionesque Group design team developed a visual language utilizing organic, curved shapes and Kizik's signature blue – nods to both the Kizik shoe outsole and their brand persona – and incorporated those into the built environment. The redesigned storefront includes 38 feet of uninterrupted glass frontage, providing a complete view into the store and a sense of retail theater for passersby.
An oversized, backlit Kizik squiggle spans the 16' high storefront and brings the store's graphic language beyond the store's interior and directly into view of the shopping center's common areas. Fixtures throughout the store provide modularity and flexibility, allowing the space to adapt to Kizik's continued growth, giving an opportunity for the store team to trial new merchandising strategies.
Kizik's premier store is a fitting space for 'the Ted Lasso of shoe companies', with cheeky nods to their playfulness throughout the store. From audio spotlight speakers that highlight the try-on experience to fun-loving messaging and signage, the space serves as a reminder that while the shoes are life-changing for some, they are joy-sparking for all. Coverage of the opening can be found here and here.